Press for If Only You Knew (2010)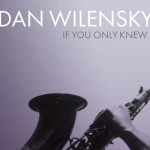 Were we to consider
If You Only Knew
academically, it would be a master class on composition, interpretation, performance, practice and repertoire selection . . .brevity, professionalism, structural musical competency, simplicity, humility and grace . . .The title piece is a ballad of careful beauty that comes to a simmer and beyond . . .
— All About Jazz (March, 2011)
---
. . . Wilensky's individuality can be heard with his first notes. His sound is bright, crisp, and completely relaxed in all registers. His lines are direct, to the point, and completely his own; he just does not sound like anyone else.
— Saxophone Journal (March, 2011)
---
This straight-ahead recording has the charm of four friends getting together in the afternoon, on a day off, to play some music that challenges the mind yet focuses on feel, whether the style is ballads, up-tempo numbers or mid-tempo charmers. Together, they create a recording that delights and impresses, but not by shoving their abilities down your throat. Instead, they take their time to lay out lines with thought and care . . . There is an easy rapport between these musicians best demonstrated in a wonderfully shifting and lilting of backbeat heavy accents on the title piece. Slowing building the tune's intensity, Neumann is incredibly tasteful and insistently prodding at the same time as he pushes the tune to a great climatic height. Wilensky's ending solo is full of the fire you can see made him so admired and sought after as a rock musician . . . If you enjoy thoughtful, at times introspective playing by those who have already earned their stripes and have no need to show off, then you'll be totally captivated by this recording.
— Jazzreview.com (January, 2011)
... Continue Reading